Dr. Radbert Chin, O.D.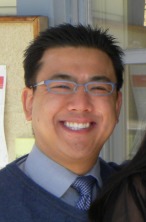 Dr. Radbert Chin attended UC Berkeley for his undergraduate work in Chemical Engineering and completed his Doctorate degree in Boston at the New England College of Optometry.

He completed externships at eight unique medical hospitals and health centers to acquire the diverse knowledge needed to treat today's eye infections, inflammations, injuries, and allergies. Medically, he is trained to manage patients with diseases and disorders such as glaucoma, diabetic retinopathy, macular degeneration, and neuro-ophthalmic disorders. He also offers consultations and provides pre- and post-operative care to patients undergoing cataract and refractive laser eye surgery. In addition to providing general eye and contact lens exams, Dr. Chin enjoys providing pediatric eye care and helping patients requiring low vision aid and vision therapy.

He is a member of the American Optometric Association, the California Optometric Association, and the San Mateo County Optometric Association. And although Dr. Chin's focus is directed towards a patient's vision and the health of the eyes, he strives to educate the importance of overall wellness. In response to a nationwide effort to promote preventative medicine, Dr. Chin composed a music video to educate children and their parents about the importance of children vision screenings and yearly eye exams. This project received an award and the Transitions® Healthy Sight for Life Fund Scholarship.

Being born and raised in the Bay Area, he roots for the Giants and the 49ers. Outside of the eye world, Dr. Chin enjoys playing volleyball and climbing rock walls. His hobbies include cooking, karaoke, and catching up with old friends. But most importantly, he tries to spend as much time as possible with his wife and his two little boys.
---
Dr. Thu Nguyen, O.D.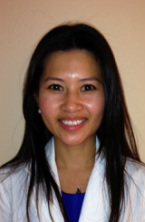 Dr. Thu Nguyen graduated from UCLA with a B.S. in Physiological Science and obtained her Doctorate at the New England College of Optometry in Boston. She pursued further training with a Residency in Primary Care at the San Diego Veterans Affairs Hospital. Her residency focused on managing ocular conditions such as glaucoma, diabetic eye care, and age-related macular degeneration with sub-specialties in binocular vision in traumatic brain injury patients and low vision rehabilitation.

Prior to residency, Dr. Nguyen received diverse optometric training at New England Eye Institute and community health centers in Boston, White River Junction Veterans Affair Medical Center in Vermont, and University Eye Care in Baltimore, Maryland. She is well-versed in contact lens fitting, vision therapy, and on the treatment and management of eye conditions such as ocular allergies, infection, and inflammation.

She is an active member of the American Optometric Association, California Optometric Association, and Santa Clara County Optometric Society.

Dr. Nguyen is excited to join our practice and to provide eye care services to the Bay Area community she grew up in. In her spare time, she enjoys spending time with family, cooking, hiking, traveling, and photography.
---
Dr. Gregory Tom, O.D.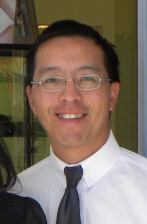 Dr. Gregory Tom received two Bachelor of Sciences degrees from UC Berkeley, one in Bioresource Science and the other in Physiological Optics. This was followed by the achievement of his Doctorate degree at UC Berkeley's School of Optometry.

Prior to his 15+ years in private practice, Dr. Tom completed externships at the Atlanta Eye Surgery Group, Livermore VA Hospital, and the Ophthalmology Department at SF Kaiser Permanente. He served as an Assistant Clinical Instructor at UC Berkeley and as a Founding Member on the Board of Directors at the Pacific Laser Eye Center at UC Berkeley.

In response to the need for an effective method to screen for color deficiencies in children, Dr. Tom developed a "new color vision test" which received a CA State Award from the CA Optometric Association and a fellowship grant from UC Berkeley.

In addition to general Optometry, Dr. Tom concentrates in pediatric vision, vision therapy for lazy muscles, allergies, eye and sport injuries, and disease management of glaucoma, diabetes, and macular degeneration. Dr. Tom enjoys helping those who consider themselves "hard to fit" contact lens patients.

In the area of computer vision, Dr. Tom offers aide to those with glare problems, eyestrain headaches, and other physical ailments resulting from heavy computer usage. He is also able to design custom lenses which is one of his trademarks to counter problems associated with today's progressive lenses.

Dr. Tom is an avid golfer and also enjoys playing basketball in various leagues in the Bay Area. As a result, he loves to help athletes improve their performance. Sports car restoration and music are some of his other favorite pastimes.
---